No pigeon shortage on my sill.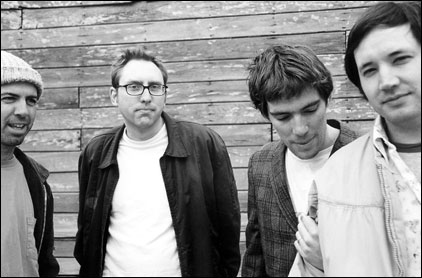 Although
Granfaloon Bus
are no more, they were pretty wonderful. They started out in San Diego, California and ended up San Francisco, where they also ended the band. There are talks, or rumours of some sort of rebirth, but it seems unlikely.
Here's a quote that explains them a bit better than I ever could, from their label,
Future Farmers
:
A
San Francisco journalist did her homework on Granfaloon Bus when she declared: "Few other bands can claim to have opened for
Nirvana
and toured Europe with
Souled American
, been compared to
Guided by Voices
and
Sparklehorse
, and put out six albums of wonderfully melancholic and captivating music and still keep a low profile."

Existing in that world of influence that feels a bit country, a bit folk, a bit rock and a bit something else...here are Granfaloon Bus:
Granfaloon Bus - Some Kind of Other Love -
REMOVED
Granfaloon Bus - Moans Enclosed -
REMOVED
Granfaloon Bus - Heatwave Marchingband Soldier -
REMOVED
You can buy their stuff at
Future Farmers
, direct from
Granfaloon Bus
or even
Amazon
.