Lay yourself on the table...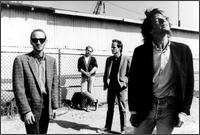 >
The Balancing act formed in 1984, and their first release came out two years later, in 1986. This ep, "New Campfire Songs," was followed by two full length albums and then they disbanded, discouraged, it seems, by the lack of success. I discovered them around 1987 or so, and their mostly acoustic sounds were not the norm for my tastes. But something about their delivery and writing made it all work for me. They had a sense of humor that was absent from a lot of other music and they seemed to be, both lyrically and musically, doing something a bit different.
Here's a great web site,
We're Not Lost
, with a wealth of information, including a handful of rare
tracks
for your perusal.
All of their albums are out of print, so if you're interested, I'd go the ebay or half.com route. Their second full length, "Curtains," has a different sound to it, more produced, and it's probably my least favorite of their releases.
The Balancing Act - Who Got the Pearls? (from "New Campfire Songs")
REMOVED
The Balancing Act - This Is Where It All Begins (from "Three Squares and a Roof")
REMOVED
The Balancing Act - Can You Get To That (from "Curtains" - written by George Clinton/Ernie Harris - feat. Victoria Williams on Backing Vocals)
REMOVED