a pleasant gesture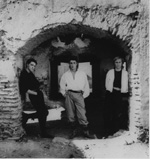 The year is 1985...maybe you remember the song...


Vitamin Z
only had one hit here in the states (and anywhere else), it doesn't hold up solidly for me, but I still enjoy it. The song was "Burning Flame," and it appeared on their second album as well, I guess to strengthen it's sales as "Sharp Stone Rain" wasn't released until 1989. The lead singer, Geoff Barradale went on to form Seafruit, but the more interesting side note is that David Rhodes, the guitarist, ended up playing with Peter Gabriel quite a bit and even shared in some songwriting along the way. Makes sense when you know that Peter Gabriel made an appearance on their first album. You can probably pick up their stuff used on ebay.
Vitamin Z - Burning Flame
REMOVED
This next song is much stronger in my opinion, I especially love the percussion in the background (handclaps?) building as the song progresses.
Vitamin Z - How Far To Queensland
REMOVED