I can't understand a thing you said
So, part of me just doesn't want to like this song...but it's so damn catchy and infectious, how can you not?
Andrew Thompson - There Must Be Some Kind of Misunderstanding (music video)
Who is this guy?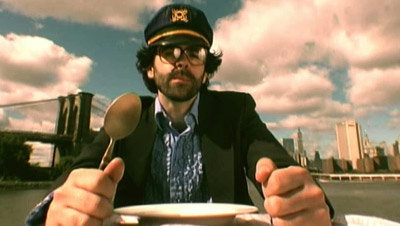 Where does he come from?
"Armed with a DMX drum machine, a kazoo, a Wurlitzer, some junky synthesizers, tubas, trombones, a robot, and a broke-ass piano, Mr. Thompson sings tales of the absurd and the everyday. Oh yeah - and the boy can sing.
The Brooklyn resident has a background in Jazz vocals and corporate entertainment. In fact he won the Jazz Vocal M.V.P. award at Boston's prestigious Berklee School of Music and went on to sing in high-class restaurants, stuffy hotels and big name corporate functions. " -
Lewis Recordings
Andrew Thompson - Cock-A-Doodle-Doo
My God? What is going on in his head? Why do I like this? I CAN'T EXPLAIN!!!!
Andrew Thompson - Don't Get Down
Andrew Thompson - The Coast Is Clear
Is it the combination of Elvis Costello beaten up by Squeeze that's winning me over? I don't know.
Love him! Now! I command you! Here's the direct link to his
SUPER-INFORMATION HIGHWAY
!
And you can get it all at itunes, no less! And
Insound
!